Immunoanalytics
Cliantha's Large Molecules laboratory has been dedicated to helping clients advance their research programs by providing high quality, accurate results for biosimilar development. Large Molecule lab is specialized in pharmacokinetics & immunogenicity studies and has extensive experience in working with therapeutic monoclonal antibodies, recombinant proteins and hormones to support global clinical trials.
Services:
Method development/ transfer of ELISA, Clot based assays and Chemiluminescent microparticle based assays for Pharmacokinetic analysis of Large molecule Biologics or Biosimilars
Multi-tiered Immunogenicity assays including screening, confirmatory, titer & NAB assessment
Cell based (CBA) & Competitive Ligand Binding (CLB) Neutralizing antibody assays
Conducting method validation as per international guidelines and regulations & good practices (GXP)
Sample preparation, storage, logistics, tracking, archival and management
Statistical analysis of Immunogenicity and PK data
Lab Manuals, Report writing & data archival
Labelling of antibodies and critical reagent life cycle management
Strengths:
Expertise in immunoassay development, validation and large scale sample analysis as per regulatory guidelines.
Wide range of assay formats and instrumentations.
Project teams with expertise in the areas of immunogenicity, PK studies and PD studies.
Experienced personnel trained in GLP/GCLP.
Dedicated teams for sample management, quality control and quality assurance.
USFDA 21 CFR part 11 compliant electronic records and signatures.
---
Biomarkers
Testing of biomarkers for PHC, neutraceuticals and other related clinical trial studies:

Biomarkers are increasingly used to assess the effects of new drugs and therapeutic biological products in patient populations. Because of the important roles biomarkers can play in evaluating the safety, activity, or effectiveness of a new medical product, it is critical to ensure the integrity of the data generated by assays used to measure them.

Cliantha has developed a wide biomarker portfolio which includes over 100+ biomarkers spanning a diverse range of disease states. Cliantha works closely with clients to shape their biomarker strategy and selecting the best analytical technology by:
Identifying the appropriate biomarker
Selecting the right regulatory approach for compliance
Conducting fit for purpose method validation to support clinical trials
Choose the best analytical methodology
---
Cell Based Assays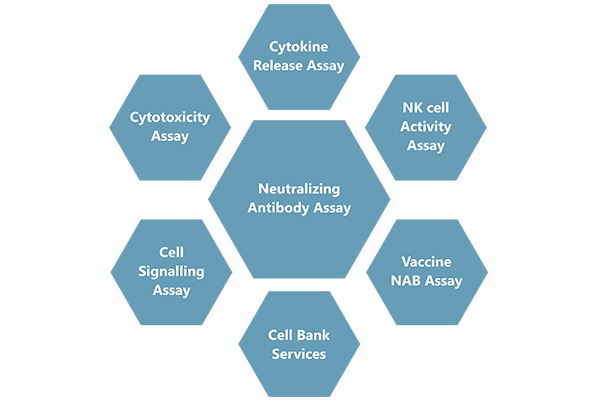 Cliantha has well equipped state-of-the-art cell culture laboratory to provide full support for large molecule bio-analysis. This cell culture lab set up enables thorough evaluation of neutralizing anti drug antibodies using cell based assays. The cell culture lab also supports various other cell based assays key to new product development. Such assays include cell cytotoxicity assay, cell viability assay, Enzyme inhibition assays, cell signaling assay etc.
---
Strengths:
Experienced team from development, discovery & regulated background
Regulated process to prepare master cell bank, working cell bank
Dedicated teams for sample management, quality control and quality assurance.
GCCP, GLP & GCLP compliance system & process
US FDA 21 CFR part 11 compliant electronic records and signatures.
---
Vaccine Studies
Clinical development of vaccines requires a specific set of specialized assays to demonstrate the immunogenicity of the vaccine. Ideally, these assays should measure immune responses that correlate with protection against disease. Developing assays for new-generation vaccines usually requires working with cells, pathogens, antigens or assay controls that are not readily available. Validation of these assays involve many challenges as validation requirements are not yet fully specified in regulatory guidelines or White Papers. Our large molecule team has demonstrated experience in conducting numerous CT vaccine studies.

Our vaccine experience includes method validation and sample analysis for
Measles virus IgG
Mumps virus IgG
Rubella virus IgG
Diphtheria toxoid IgG
Bordetella Pertusis IgG
Tetanus toxoid IgG
Varicella zoster IgG
Haemophilus influenzae type B IgG
Anti hepatitis B surface antigen (HBs) IgG
Anti-S Typhi Vi IgG
Influenza virus H1N1, H3N2 and Type B-10 Brisbane, Type B-12 Massachusetts IgG detection done by haemagglutination and haemagglutination inhibition method.
Technology platforms for vaccine analysis,
ELISA
Chemiluminescent microparticle immune assay(CMIA)
Cell culture